Running on a Raspberry Pi
I expect the new Raspberry Pi 4 (4GB RAM option, external SSD) to handle an Eth2 validator node without breaking a sweat. That's $100 of hardware running at 10 Watts to support a 32 ETH node (currently ~$10K stake).

— Justin Ðrake (@drakefjustin) June 24, 2019
In addition to this guide, we highly recommend this wonderful and complementary resource by community member Joe Clapis.
Introduction
This page will take you through how to use your laptop to program your Raspberry Pi.
One of the most important aspects of the Raspberry Pi experience is trying to make it as easy as possible to get started. As such, we try our best to explain things from first-principles.
Prerequisites
Raspberry Pi 4 4GB (8GB recommended if also running execution client)
64GB microSD Card
microSD USB adapter
5V 3A USB-C charger
Reliable Wi-Fi connection
Laptop
Basic understanding of the command line
200GB SSD (2TB recommended if also running execution client)
Steps
1. Download Raspberry Pi Imager
Raspberry Pi Imager is an imaging utility that makes it simple to manage your microSD card with Raspberry Pi OS (the free Pi operating system based on Debian, previously called Raspbian).
You can find the download link for your operating system here: Windows, macOS, Ubuntu.
2. Download 64-bit Raspberry Pi OS
You need to install the 64-bit version of Raspberry Pi OS. You can find the latest version, here.
3. Plug in SD card
Use your microSD to USB adapter to plug the SD card into your computer.
4. Download Raspberry Pi OS
Open Raspberry Pi Imager and click on CHOOSE OS: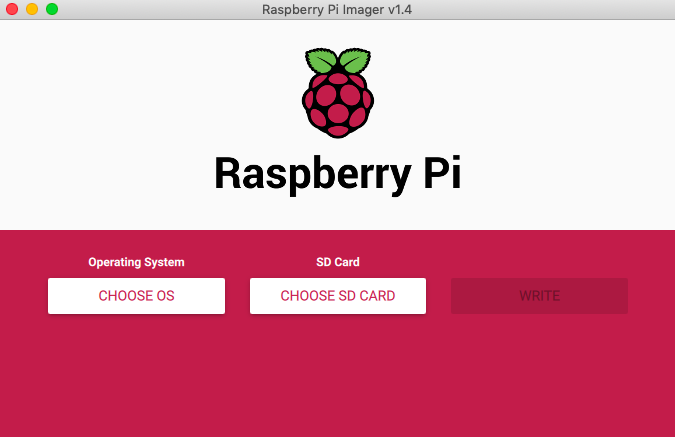 Scroll down and click on Use custom: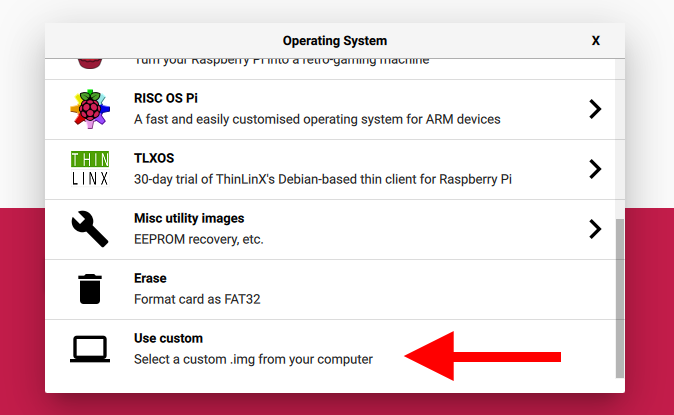 Find the OS you downloaded in step 2:
4b. Write to SD card
Click on CHOOSE SD CARD. You should see a menu pop-up with your SD card listed -- Select it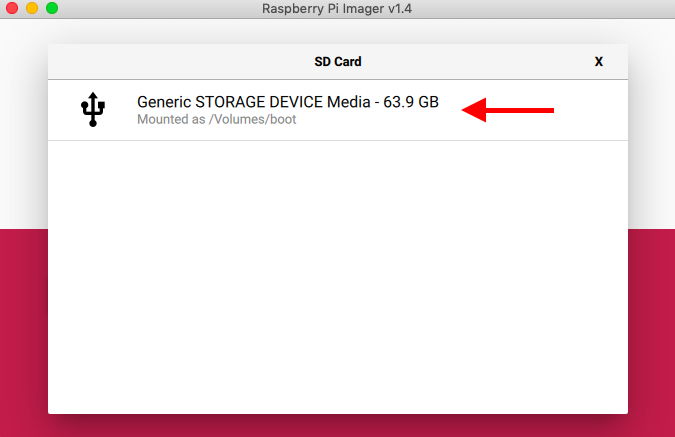 Click on WRITE
Click YES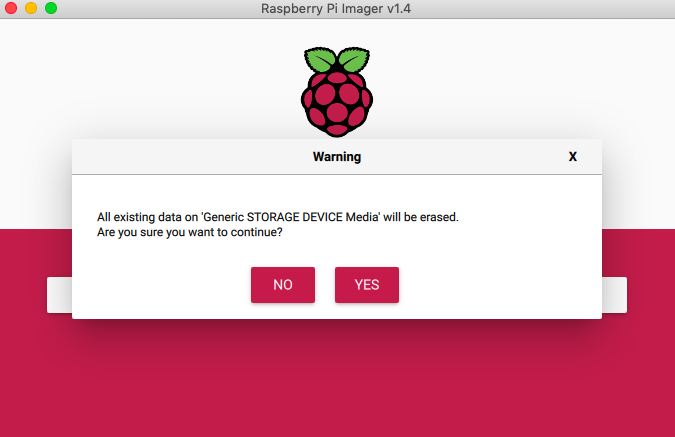 Make a cup of coffee :)
5. Set up wireless LAN
Since you have loaded Raspberry Pi OS onto a blank SD card, you will have two partitions. The first one, which is the smaller one, is the boot partition.
Create a wpa_supplicant configuration file in the boot partition with the following content:
6. Enable SSH (using Linux or macOS)
You can access the command line of a Raspberry Pi remotely from another computer or device on the same network using SSH.
While SSH is not enabled by default, you can enable it by placing a file named ssh, without any extension, onto the boot partition of the SD card.
When the Pi boots, it will look for the ssh file. If it is found, SSH is enabled and the file is deleted. The content of the file does not matter; it can contain text, or nothing at all.
To create an empty ssh file, from the home directory of the boot partition file, run:
7. Find your Pi's IP address
Since Raspberry Pi OS supports Multicast_DNS out of the box, you can reach your Raspberry Pi by using its hostname and the .local suffix.
The default hostname on a fresh Raspberry Pi OS install is raspberrypi, so any Raspberry Pi running Raspberry Pi OS should respond to:
The output should look more or less as follows:
Keep note of your Pi's IP address. In the above case, that's 195.177.101.93
8. SSH (using Linux or macOS)
Connect to your Pi by running:
You'll be prompted to enter a password:
Enter the Pi's default password: raspberry
You should see a message that looks like the following:
Followed by a command-line prompt indicating a successful connection:
9. Increase swap size to 2GB
The first step is to increase the swap size to 2GB (2048MB).
Use the Pi's built-in text editor nano to open up the swap file:
Change the value assigned to CONF_SWAPSIZE from 100 to 2048:
Save (Ctrl+S) and exit (Ctrl+X).
10. Reboot
Reboot your Pi to have the above changes take effect:
This will cause your connection to close. So you'll need to ssh into your Pi again:
10b. Boot from external SSD
Follow this RPi4 guide to copy the contents of your SD card over to your SSD, and boot your Pi from your SSD.
For more on raspi-config, see here.
Once you're done, ssh back into your Pi.
11. Overclocking
Nimbus requires the Raspberry Pi to be overclocked.
To overclock your Raspberry Pi, you need to add two lines to the /boot/firmware/usercfg.txt file:
Add the following two lines to the end of the file:
Save the file and reboot. This increases the CPU clock from 1500 MHz to 1800 MHz and raises the CPU voltage from 0.88 V to 0.93 V.
To read more about testing the stability of an overclock and benchmarking, follow the RPi overclocking guide by Joe Clapis.
12. Install the beacon node
13. Copy signing key over to Pi
We'll use the scp command to send files over SSH. It allows you to copy files between computers, say from your Raspberry Pi to your desktop/laptop, or vice-versa.
Copy the folder containing your validator key(s) from your computer to your pi's home folder by opening up a new terminal window and running the following command:
As usual, replace 195.177.101.93 with your Pi's IP address, and <VALIDATOR_KEYS_DIRECTORY> with the full pathname of your validator_keys directory (if you used the Launchpad command line app this would have been created for you when you generated your keys).
14. Import signing key into Nimbus
Depending on your installation method, run these commands to import your signing key into Nimbus:
You'll be asked to enter the password you created to encrypt your keystore(s). Don't worry, this is entirely normal. Your validator client needs both your signing keystore(s) and the password encrypting it to import your key (since it needs to decrypt the keystore in order to be able to use it to sign on your behalf).
15. Connect to Prater
We're finally ready to connect to the Prater testnet!
To connect to Prater, run:
16. Check for successful connection
If you look near the top of the logs printed to your console, you should see confirmation that your beacon node has started, with your local validator attached:
To keep track of your syncing progress, have a look at the output at the very bottom of the terminal window in which your validator is running. You should see something like:
Keep an eye on the number of peers you're currently connected to (in the above case that's 15), as well as your sync progress.
Mainnet advice
Whether or not your Pi is up to the task will depend on a number of factors such as SSD speed, network connectivity, etc. As such, it's best to verify performance on a testnet first.
The best thing you can do is to set your Pi to run Prater. If you have no trouble syncing and attesting on Prater, your setup should good enough for mainnet as well.
We've been running lots of PIs and NanoPCs 24/7 for 3 years and never got a hardware fail. It is easy (and cheap) to get redundancy of components (even spare PIs in different locations, more of this to come).

— Ethereum on ARM (@EthereumOnARM) November 28, 2020
Although we don't expect a modern Pi to fail, we recommend buying a spare Pi, and enterprise grade SSD, on the off-chance it does; keep your original SD around, to make it easy for you to copy the image over.
Systemd
Now that you have Nimbus up and running, we recommend setting up a systemd service with an autorestart on boot (should you experience an unexpected power outage, this will ensure your validator restarts correctly).
Systemd will also ensure your validator keeps running when you exit your ssh session (Ctrl-C) and/or switch off your laptop.
For the details on how to do this, see our systemd guide.